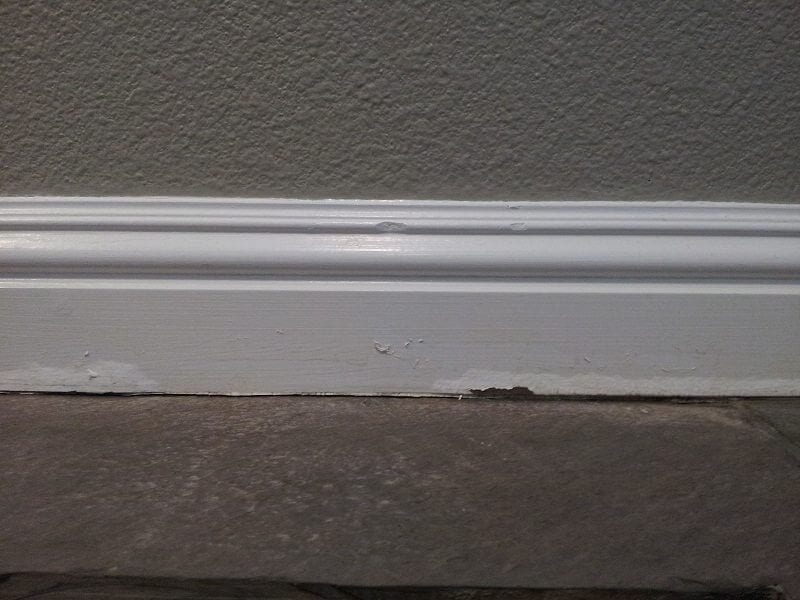 Holy Smokes!  This baseboard looks bad.  What happened?  We at Appleby are intimately involved with baseboards because we in the Hard Surface Division deal with them everyday.  The picture above is an example of MDF baseboards that have been exposed to water and/or other liquids. These liquids have absorbed into the bottom part of the baseboard through capillary action.
What is MDF?  It's short for Multi Density Fiberboard  (a fancy name for pressboard) and it's basically made of sawdust and resin used to form into moldings, panels and baseboards.  Too much moisture will cause them to bubble and swell. If you think MDF is only used in cheaper applications or inexpensive homes, think again.  I've been into plenty of million dollar and multi-million dollar homes that have MDF.  MDF is consistently smooth and uniform and does not have knots or dark spots.  These advantages make for an eye-pleasing finished product preferred by many homeowners.
So now what?  What do you do if you have this problem, or what if the people you hire "fry" your baseboards?  Sometimes the baseboards will dry and the swelling will recede.  Then the baseboards can be sanded and repainted.  Often, the baseboards need to be replaced.  We at Appleby Cleaning and Restoration urge you to consider this when hiring a company to do work on your marble, limestone, travertine–or in this case slate–floors.  We know how to identify the difference between MDF and standard wood baseboards.  We stand behind everything we do and are fully licensed, boned and insured.  We have the means to make things right in the unlikely event and MDF malfunction occurs.
We hope you never have to experience this problem, but if you do, consider a contractor who can place real wood baseboards in areas where water is more common–kitchens and bathrooms–and make sure your painter or contractor paints the bottom of the baseboard BEFORE they are secured to the wall.  This will help insure that you don't have this problem.  You've got better things to do with your time!