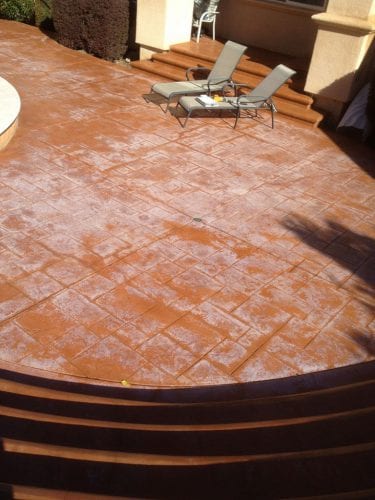 Is that snow?  Is that frost?  No, that's a topical sealer unknowing homeowners put down on their stamped concrete.  It might be lacquer, it might be water-based acrylic, but whatever it is, it's a NIGHTMARE.  If we at Appleby can give homeowners one piece of advice, it's this:
Don't put a topical sealer on your concrete, flagstone, interlocking paver driveway or any other exterior hard surface.
Exterior hard surfaces with these coating will generally fail-peel and seperate–when exposed to UV light and water–unless correctly applied in the correct concentration and volume.  Even then, there can be problems for which homeowners should be aware.  On driveways and around pools, topical sealers can turn hard, flat surfaces into skating rinks, which is fun if you have elbow pads and Christmas music playing, but not if your friends and neighbors are breaking hips, elbows and noggins.
To fix this concrete will require applying strong stripping agents, manual removal of residue, turbo-washing (hot-water extraction), floor machine abrasion, manual wire brushing, rinsing and finally, resealing with an impregnating sealer.  It will be much less expensive than ripping out the concrete, but not cheap.  It's also messy and inconvenient.
So think twice–no wait, four or five times please–about applying any topical sealers (those that remain on the surface instead of soaking in).  Please feel free to call us with any questions about sealers. We'd be happy to help you avoid a NIGHTMARE like this one.