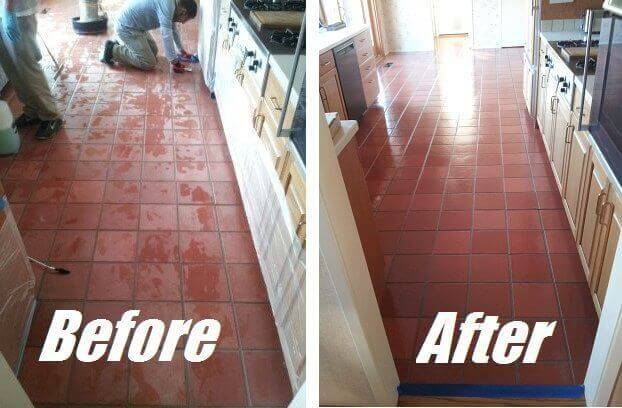 How to clean and re-seal vinyl flooring
Vinyl floors are generally maintenance-free, or at least that's what the manufacturers advertise.  We clean and seal VCT (vinyl composition flooring), rubber and cork floors too, when maintenance is actually required.
Here's before and after photos of a vinyl floor that looks like Mexican Pavers.  The vinyl tiles were actually glued down individually, the seams approximating  grout lines, as you would install tiles.  Appleby came in and stripped the tiles of all the previous wax and acrylics, scrubbed it with a floor machine, hand-scrubbed the perimeters and toe-kicks and prepped it for an acrylic coat.  We applied three coats of acrylic and it looks like new.
We did this job in one day for $1500, considerably less than having the floor ripped out and replaced.  The homeowner was very happy to see her 27-year-old floor revived and looking like the day it was installed.
If you have any questions about vinyl, VCT, rubber or cork floors, feel free to call or email us and we'll help you decide what's the best approach  to keep your floor in the best shape it can be.

Les