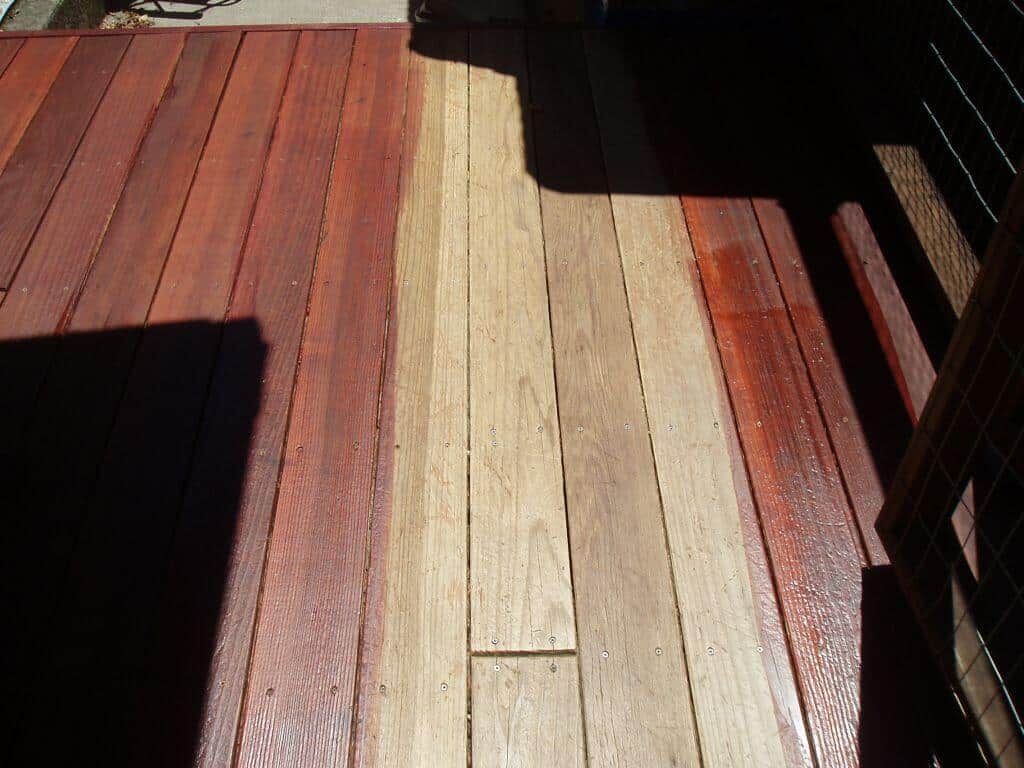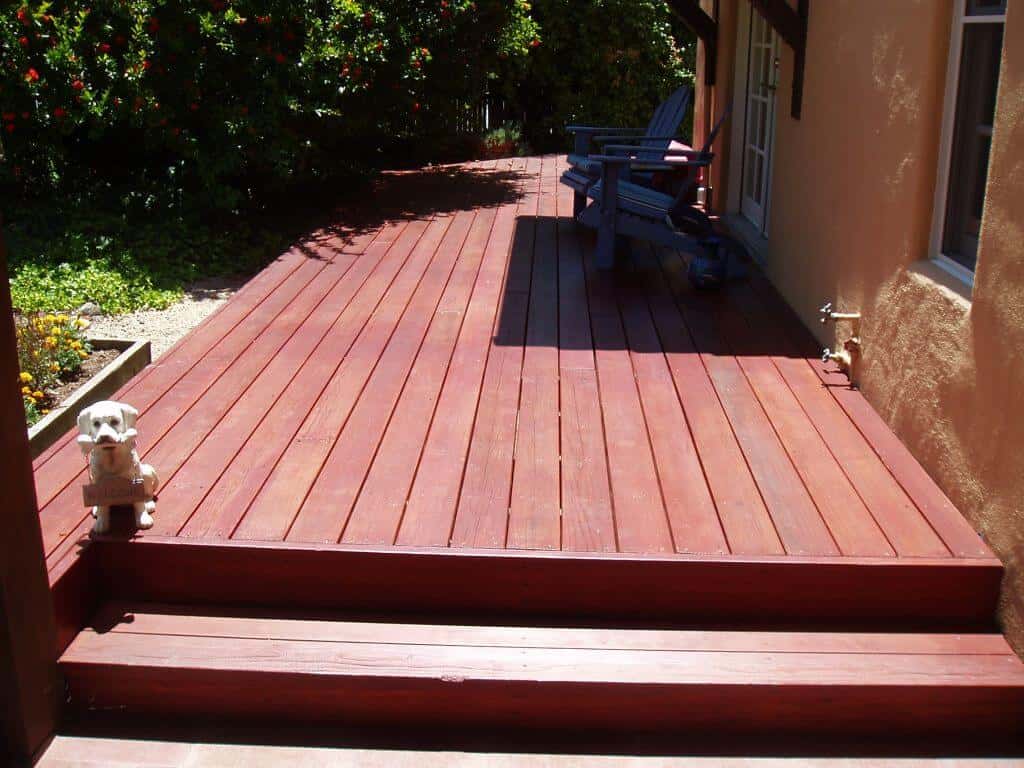 Wood decking can make a backyard or front entry area more functional, comfortable and aesthetic.  But after a few years, your new deck may start to look worn and faded.  Here's an example of a wood deck we renovated in Pinole, CA.  The home was a Hacienda style stucco structure with a nice wood deck that wrapped around the front and back of the house with some nice built in benches.  The homeowner called Appleby because she'd used us before for stone work and felt confident we'd do a good job on the exterior of her home as well.  She was extremely happy with the result.  As you can see in the above-left photo, the wood is sun-bleached and worn (not to mention the scratches from her two big dogs!).  On the right is the finished product.  We use Behr products–there are a lot of different ones to choose from–we like to give you the options and decide which way you want to go.  Bascially, the more pigment (color) in the stain sealer, the longer it will last.  Some people don't like the vivid red color–and Behr provides other options that lean more towards the brown.  You may also choose a transparent sealer that lets the color of the wood show through.
Our procedure goes like this:
First we clean and scrub the deck.  This involves either power-washing or turbo-washing and scrubbing with a medium-brush floor machine including by-hand detailing.  The difference between these two types of cleaning is that sometimes the water needs to be retained–as when we're working in San Francisco on an upper level deck.  Once the deck is thoroughly cleaned, it is allowed to dry.  Drying usually requires a day, so that we return the next day to stain or seal.  Once the deck is dry, we tape off the house walls and concrete and protect stucco and sidng. We also take care to protect any plants that may be near the area.  Finally, we apply the sealer with a roller and/or brush to detail around posts, benches and corners.  If the weather is extremely hot, it's essential to time the sealing for optimum weather conditions.  This allows the sealer to dry more slowly and reduces streaking.
If you decide to do this work yourself, follow all the sealer manufacturer's requirements and make sure the weather conditions are correct.  If the project seems to daunting, give Appleby a call!