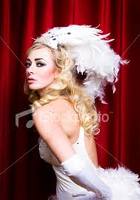 Yes, the guys love to make jokes about this, but stripping–in this case applying a solution to break down a coating that has been applied on top of your floor–is a tricky business.
We see a lot of situations where someone has applied a topical coating, either water-based or solvent-based (lacquer) to a floor.  The coating is now peeling, flaking, turning white or otherwise looking terrible.  The homeowner or business owner thought that applying this coat of shiny stuff would make the floor look classy, and it ended up making the floor look a lot worse.
Topical coatings on ceramic and porcelain tiles are generally not a good idea.  Lacquer and other solid coatings don't attach to these materials well.  Outside, these coatings can make the surface slippery.  We had one customer in a very upscale neighborhood that was having so much trouble with a slippery driveway at his big party that he was afraid he was going to get sued.  People were falling down after a light rain.  Fortunately, no one broke a hip.
Appleby can strip the coating off of your floor.  The first thing we have to do is protect the surrounding areas.  This means masking with plastic, blue tape and tarps.  If you have baseboards that are wood or MDF (a material made of wood particles and glue) you should expect that some of the paint may need to be touched up afterward.
Next, we apply the appropriate stripping agent.  This could be a water-based, solvent-based or organic stripper (soy gel is made from soy beans and works in certain applications).  We allow the stripper to emulsify (break down) the top coating.  We then remove the solids with an extraction machine.  Sometimes it takes multiple applications of the stripper. Once the floor is clean and dry, it is then sealed, most often with an impregnating sealer on the grout lines only.
Stripping a floor is not an easy task but in many cases is a more financially viable way to go.  If you or your neighbors are considering applying one of the many topical coatings sold today at the box stores, Appleby highly recommends you get a second opinion.  While these coatings can initially dazzle the eye, in many cases they end up being an unsightly mistake in the long run.

Les Bloch