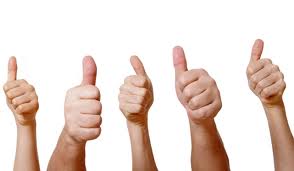 Testimonials!
Appleby Cleaning actively solicits testimonials from every customer we service.  After EVERY hard surface job is completed, we send an email asking for feedback.  Here are our most recent and up-to-date responses from our valued customers:
Appleby workers Jeff and Raul were clean, nice and thorough.  I love my floors.  Emilie Mulvihill Piedmont.  Hardwood floor sand and recoat.  11/21/2013
Wonderfully accomodating and knowledgeable.  Mark is great.  Expert workers.  Jeff and Raul were friendly and quick.  Beautiful results!  Gail Conley, San Leandro.  Hardwood floor sand and recoat.  11/20/2013
Appleby did everything that was promised and then some.  They noticed a part of the shower door that needed repair, got the new part and fixed it.  Thorough, professional work and it's like having a new house again.  John Gustafson, Ruby Hill Pleasanton.  Marble clean, hone, polish and seal.  Shower door sweep replaced.  11/18/2013
There is a huge improvement in the look of my tired and dirty travetine kitchen floor.  Well worth the cost.  Great service.  Michelle Peirona, Lafayette.  Clean and seal tumbled travertine.  11/6/2013
Applybe was professional, on time and the floors look amazing!  Donna Kaufman Livermore  Clean hone polish and seal travertine.  10/21/2013
We are very pleased once again with the professionalism of Appleby's technician.  He was helpful, pleasant to be around and answered all our questions.  Ginny Weber, Danville  Stone clean, hone, polish and seal. 10/22/2013
I love the beautiful results!  My stone tiles haven't looked like this in 14 years.  Arturo was very professional and helpful.  The patio came out great. Flagtstone patio clean and seal. Polly Bloomburg, Berkeley, CA 10/13/2013
The guys were very professional and on time.  I could have used a little more info on the maintenance!  Thanks Appleby.  Karim Traore Danville, Clean and seal stone 10/21/2013
The staff was pleasant, arrived on time and after they were finished, walked me through the rooms to assure tha I was satisfied with the results.  Clean and seal tumbled travertine.  Joyce Frye, Alameda  10/21/2013
The service was excellent and fast and complete.  My marble floor looks like new again.  Mariyn Cataldo. Travertine clean hone polish and seal 10/18/2013
This is the second time I have trusted my stone floors to Appleby.  They really exceeded my expectations.  Arturo was my technician and he does amazing work.  I will definitely use them again.  Mari Mahoney Pleasanton.  Pillowtop limestone clean and seal.  Shower caulking.  10/11/2013
The technicians were respectful, courteous and fully explained all that was being done and why while they worked.  Very clean instructions for follow-up.  The finished work was beautiful.  Susan Bridges, Larkspur.   9/26/2013  Marble clean hone polish and seal.
I highly recommend Appleby.  We love your floors again…and the service was top notch.  Don and Mary Lou Burns, Danville.  Hardwood sand and recoat  10/11/2013
I was very happy with the final results.  They kept at the job until it was completed to our satisfaction.  John Ashley, Danville.  Mexixan Pavers clean and seal with water-based acrylic.  10/2/2013
I liked everything about this job.  Jeff and crew left my hardwood floors looking better than new.  My wife especially liked the cleanup the guys peformed before they left and it was a great value.  Joe Barton, Livermore.  Hardwood sanding and recoating.  9/16/2013
Your technicians were very knowledgeable and diligent and performed an excellent job on my floor.  Emma Pendergrass, Alameda.  Clean, hone, polish and seal marble.  9/9/2013
We had our marble entry cleaned, honed polished and sealed.  We had two tiles replaced also.  After the process, the grout didn't match.  Appleby came back and fixed the grout to an even color.  I appreicate that they came back and took care of it!  Lynette Craner.  Marble clean, hone polish and seal and grout staining.  8/19/2013
Appleby in San Leandro did a great job refinishing the hardwood floor as well as sealing and caulking in the showers.  Mark is very knowlegeable, sincere and friendly.  We are very pleased with the work done.  Eugenia Fujita, South Lake Tahoe. Hardwood refinishing and Tile and grout clean and seal. 9/26/2013
Appleby is a highly professional company from start to finish.  From their customer service to the amazing work they did on our slate patio, Appleby gets an "A"!  Nicole Laby, Oakland.  Clean and seal slate pation.  9/10/2013
What a wonderful job your guys did.  The floors look absolutely beautiful and you took care of the grout issure.  The match was perfect for the kitchen.  I have never worked with such a professional company from the beginning to the end.  I will be using you guys for all my floor needs.  Thank you!  Charlene Ogilby, Oakland. Clean, hone, polish and seal. Marble.  TIle and grout clean and seal. 9/18/2013
The floors and the bathroom tile look great.  There were a few areas they had to go over twice, but once that was done, we were very happy.  Hardwood clean and buff, tile and grout cleaning.  Jana Louie, Alamo 9/5/2013
The floors look much improved.  The services were a bit expensive but I see you do quality work so it was worth it!  Travertine clean, hone, polsh and seal.  Rene McCabe Danville 8/22/2013
All I can say it that I'm simply happy with the work!  Marlbe clean, hone, polish and seal.  Barbara Bell 89/14/2013
My limestone looks GREAT!  Limestone clean, hone and seal.  Nina RIcks, Orinda.  8/13/2013
My Appleby service was very easy, they finished on time and thee was no mess to clean up.  Lisa Mangels, Lafayette.  Clean, hone, polish and seal stone.  8/8/2013
The work that was done looks great.  I appreciate the staff who did it. I have unique stone in my kitchen and Appleby service keeps it looking beautiful year after year.  If you have slate floors, you can't go wron with the enhancer they supply after cleaning.  It lasts and lasts. Slate counters and floors clean, hone, seal.   Melody Weintraub, Walnut Creek 8/12/13
The Appleby people were on-time, courteous and very pleasant to have around.  They did an excellent job! Tile and Grout clean and seal.  Eva Tamm, Alameda.  7/24/2013
The marble looks SO MUCH BETTER!  Appleby techs were courteous and professional.  John and Juan really know their stuff.  They also gave me good advice on what sealer I should use.  ALSO when we ran into a problem (clogged drain) they immediately got in touch with their supervisor and he came over to help resolve the problem.  The process was much cleaner than I expected.  Marble clean hone polish and seal.  Brad Noel, Walnut Creek  7/26/2013
I was happy with the work Appleby did.  They were a little expensive, but they were on-time and the quality was excellent.  Michael Sendler, Pleasanton.  Tile and Grout clean and seal 7/30/2013
Appleby did a great job.  The floors turned out beautiful.  Hardwood Floor sand and refinish Lorraine Hewitt 7/13/2013
Appleby was prompt, professional, clean, hardworking and the guys have pleasing personalities.  Sang and Juan were very responsive to questions and requests.  I would recommend Appleby to anyone. (Marble clean, hone, polish and seal, tile and grout cleaning and sealing)

Ron De Diemar, Dublin 3/27/2013
The floor turned out amazing.  WOW! (Marble clean, hone, polish and seal with regrout)

Don Owyang, Danville 3/25/2013
My floor looks great and smells good.  The two young men (John and Arturo) were very courteous.  (Clean and Buff hardwood)

Ingrid Vest, Dublin 3/14/2013
What did we like?  Everything!  Our floors have NEVER looked this good.  Appleby did an amazing job.  They were so professional.  Thanks you! (Terrazzo and Tile and Grout clean and seal)

Pearl and Larry Johnston, San Leandro 3/13/2013
The grout didn't come out as clean as I wanted, so they did a great job and prompt on follow-up.  Thanks Mark!  (Tile and Grout cleaning and follow-up).

Bonnie and Scott Kramer, Pleasanton 3/12/2013
From getting the quote to the work being done it was easy.  The guys who showed up were professional and helpful.  (Tile and grout cleaning and Dustless hardwood recoat).

Patty Wooton, Oakland 3/5/2013
Beautiful results: friendly and competent staff; timely arrival and completion of the job; all expectations met.  I have and will continue to recommend Appleby for carpet and hard surface cleaning.  You are reliable, honest, friendly and a pleasure to have in our home. (Granite counter clean and sealing, slate floor clean and sealing)

Joanne Backman, Berkeley 3/3/2013
The crew was friendly and on-time.  (Slate cleaning and sealing).

Jon and Joan Wactor, Oakland Hills 3/1/2013
The staff was extremely competent and pleasant and provided explanations and information regarding the work that they were performing.  (Hardwood floor sanding and refinishing)

Anita Eble, Berkeley 2/27/2013
The guys were really friendly and on-time.  (Tile and Grout cleaning)

Bonnie and Scott Kramer, Pleasanton 2/26/2013
Our floors look fantastic!  I didn't think it could look that good after 20 years. (Mexican Paver clean and seal renovation).

Jan and Tom Tiemann, Orinda 2/21/2013
The floors look very nice, especially the kitchen.  The guys were very polite and accommodating.  (Tile and Grout cleaning).

Wendy Nielsen, Moraga 2/21/2013
Appleby was very neat and clean.  Good result, friendly and they called me at 5 when it was done! (Bathroom regrout)

Pam Mack, San Leandro 2/14/2013
Appleby did a very thorough job.  They were knowledgeable and professional workers, timely and very customer focused.  The crew exceeded my expectations. (Tile and Grout)

Les Yamagata, El Cerrito 2/13/2013
Appleby was prompt and speedy.  Very little interruption to my life. (Slate clean and seal).

Nancy Falk, Berkeley 2/13/2013
Excellent service and good results. (Brick and concrete cleaning)

Lois De Domenico 2/8/2013
Appelby was prompt, meticulous, courteous professional and straight-forward.  My only complaint is that they could communicate all the other surfaces they do. (Granite cleaning and sealing, shower sweep replacement)

Celestine Lee, San Carlos 2/8/2013
The crew was very nice and explained what they were doing. (Dustless recoat of hardwood floors).

Gary Bartolotti 11/16/2013
From the beginning to the end they handled everything professionally. (Limestone honing and sealing)

Masshood Moshrefi, Dublin 11/20/2013
Appleby is very friendly and helpful.  Our rugs, stone floors and caulking look terrific!  We are very pleased. Mark and Alex are the best.

Barbara O'Neil, Danville 11/28/2013
I love the results!  My marble shines like a mirror–as well as when we installed it 13 years ago!  The tile hallway is also like new again.

Jim Mergens, Walnut Creek 1/29/2013
I can see myself in the marble after your technicians left. Professional all the way.  Awesome job.

Herb and Alexia Gilmore, Palo Alto 1/18/2013
The floors and fixtures look great.  The workmen were professional and efficient. (Marble Polish)

Jeffrery and DeeAnn Biddle, Berkeley 1/9/2013
Appleby is one you can trust to do a great job. (Tile and Grout)

Jack Ottaway, Danville  1/4/2013
Thank you for sending out Rey.  He did a fantastic job and we never dreamed it could look this good–it's better than when we moved in! (Marble Polishing)

Arlynn Grimm, Livermore 1/2/2013
We are thrilled with the results.  The guys that came out were meticulous, courteous and hard workers.  Mark was willing to take the project on and his guys did an excellent job in the execution (stripping and buffing hardwood floors).

Natasha Gianni, Alamo 1/9/13
Appleby made my floors look beautiful for the first time in years.  The staff were neat and courteous.

Barbara Fromm, Walnut Creek
The Appleby Stone Techs brought back our marble counters and made them look better than when they were new.  Really good service.

Craig Gronning, Pleasant Hill
The Appleby Crew are on-time, personable people.  Our tile and stone looks and feels so much cleaner and newer!

Kelly Errigo, Pleasanton
Appleby has very nice workers who got right to work and finished in a timely way.  They are a great local service and always do a great job!

Cindy Hicks, San Leandro
Everyone is commenting on how great Appleby made the floors look–it was the first thing my cleaning lady saw!!!

Carol Puccinelli, Lafayette
Mark and Wilma made arrangements easy and understood my unique situation.  They were always patient, responsive and helpful.  The folks at Appleby make the service part of Customer Service a reality.  Excellent response and patience with questions and they keep at it until the job is perfect!

Cathy Park, Point Richmond
What I like most about Appleby Cleaning and Restoration is the people.

Larry Lenger, Orinda
We were impressed with the job your crew did on our floor tiles.  In the kitchen, they were so dirty I feared they couldn't be brought back, but as you promised, they came up looking like new tiles.  I should add that it was a pleasure to have Reyes and Sang working in our house.  Not only did they cheerfully move furniture off the tiles onto the carpet, but when they were through (we weren't here) they put everything back almost exactly where it had been.  Sorry not to send you a picture.  That would require picking up everything to make the place look "beautiful" and we're too busy for that!

John Hastings, Orinda
The workmen were on-time, cleaned up after themselves and did a good job.

Jack and Diane Harrington, Danville, CA
Appleby cleaned the very dirty tan ceramic tiles in our kitchen, laundry room and bathroom.  Until I received their flyer in the mail, I had no idea that this kind of service existed and I'd even contemplated getting the tiles replaced after repeated attempts to clean them ourselves. I am really happy with the results.  It looks like a new floor at a fraction of the cost!

David and Kathy Kenny, Oakland, CA
Tom and I were very pleased with the service your company provided.  John and Juan were very gentle not to scratch the baseboards, etc.  I would definitely recommend Appleby to my friends.

Tom and Maria Graffeo, Danville CA
Nice workers, thorough and met expectations.

Perry Santia, Danville, CA
Les and the Team were willing to come back to redo a tough stained tile area.  We appreciate the effort.

Roy and Benita Wold, Pleasanton, CA
Our stainless steel counters and marble countertop look amazing…Appleby did a wonderful job refinishing our stainless steel counters and marble counter top as well as cleaning the grout on our tile floors.  I will definitely use them again and feel confident recommending their service to friends.

Karen Reisch, San Francisco, CA
What did we like about Appleby Cleaning and Restoration?  Everything!  They showed up on time, the techs were very professional and customer oriented (cleaning our tumbled travertine), very respectful and helpful.  Just keep doing what you're doing…it's great!

Jane Benhanm, Pleasanton, CA
Appleby will be the company I can call with confidence that my needs will be met.

Maxine Jew, Oakland CA
We are very pleased with the service provided by Appleby which was personal and professional at the same time.

Joey Feinstein, San Leandro, CA